Golf carts have come a long way from their origins as simple vehicles used to transport golfers and their equipment around the greens. lithium golf cart battery have changed over time to become popular and useful ways to get around in many places, from gated communities to college campuses, parks, and even industrial sites. 
Nowadays, people convert their golf carts to run on lithium batteries. The cost of converting a golf cart to a lithium battery varies based on the type of lithium battery, the battery's size, and the conversion process's complexity. On average, expect to pay anywhere from $1,000–3,500 for the conversion. While this may seem like a significant upfront investment, the benefits of a lithium battery, such as its longer battery life and faster charging times, can save you money and hassle in the long run. So, converting to a lithium battery may be worth considering if you're looking to upgrade your golf cart.
Factors to Convert a Golf Cart to a Lithium Battery
Converting golf carts to lithium batteries seems daunting, with countless factors to consider, such as battery capacity, type of golf cart, and the labor costs involved. Therefore, one of the most commonly asked questions is, "How much does it cost to convert a golf cart to a lithium battery?" When converting a golf cart to a lithium battery, there are numerous factors to consider, including:
Type of golf cart

The capacity of the battery

Quality of the lithium battery

Labor cost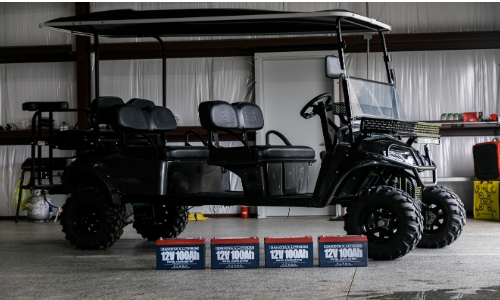 Type of golf cart
Generally, the cost of converting a golf cart to a lithium battery will depend on various factors. The type of golf cart is important because the conversion process will be different for each type. For example, the cost of converting an electric golf cart will vary from that of a gas golf cart. Additionally, the capacity of the golf cart battery chosen also affects the overall price. Depending on which battery you choose, the price can be anywhere from a few hundred to a few thousand dollars.
Capacity of Battery
The capacity of a golf cart battery plays a crucial role in determining the overall cost of conversion, as well as the performance and capabilities of the cart. The capacity of a battery refers to the amount of energy it can store, which directly affects its range and ability to power the golf cart. Higher capacity batteries tend to cost more but offer increased power and a longer range, making them ideal for those requiring extended use without recharging frequently. On the other hand, lower-capacity batteries are less expensive and lighter but have a shorter range and require more frequent charging. When considering the capacity of a battery for your golf cart conversion, it's important to strike a balance between cost and performance to ensure you get the best value for your investment. Lastly, it's also important to consider your golf cart's specific needs and usage patterns, as this can help you determine the appropriate capacity for your particular situation.
Quality of the lithium golf cart Battery
Regarding the battery's quality, one of the top brands on the market is Dakota Lithium. Dakota Lithium batteries are known for their high quality and affordability, making them a popular choice for conversion. With reliable power, a Dakota lithium battery can supply energy for hundreds of cycles, making it an ideal option for golf carts.
Labor cost
Finally, the labor cost is also a significant factor in conversion. Before beginning the process, it is important to get some estimates of labor prices. As this will give an accurate estimate of the overall cost. 
Average cost of conversion
Altering your golf cart's power source from a lead-acid battery to a lithium battery can give you a significant advantage in performance and reliability. But the big question is: How much does it cost to convert a golf cart to a lithium battery? To help you budget for the potential switch. We'll break down the components involved in the lithium-ion golf cart battery conversion process and estimate the cost based on our experience with Dakota Lithium.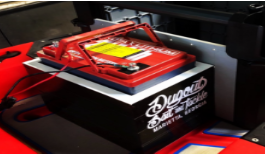 Factors reducing the cost:
Doing the Conversion Yourself

Finding deals on lithium batteries

Reusing Parts from the old battery

Hiring a Local Electrician Specialist
Doing the Conversion Yourself
If you're comfortable working on small engines. You could save considerable money by doing the work yourself. Doing the work yourself also allows you to customize the project as you see fit. However, if you need to gain experience with these conversions, it's always best to leave the job to an experienced technician.
Finding deals on lithium Golf Cart Battery
When converting a golf cart to a lithium battery. You want to make sure that you purchase a high-quality, reliable battery. For the greatest value and the best performance of your battery, look no further than Dakota Lithium. Dakota Lithium supplies high-performance lithium batteries at an affordable price, perfect for powering a golf cart. Whether you need a 12-volt, 36-volt, or 48-volt battery or a 135 Ah, 60 Ah, or 96 Ah battery, Dakota Lithium is ideal for your needs.
Reusing Parts from the old battery
Try to reuse as many parts from your old battery as possible to save money. The brackets, cables, and other battery components can be used in the new setup, saving you time and money.
Hiring a Local Electrician Instead of a Specialist
If you're uncomfortable working on your golf cart, consider hiring an electrician. Local electricians usually charge much less than specialists. And may also be able to help you with the installation and other technical tasks.
We at Dakota Lithium have an extensive range of lithium batteries and components specifically designed to convert golf carts. We understand the needs of our customers and strive to provide them with top-notch quality products that are cost-effective, too. So, wherever you decide to shop for your lithium batteries and components. Consider the quality of the products you are purchasing and factor in the total cost it will cost you to convert to a lithium battery.
Components Needed for Conversion
The lithium golf cart conversion process generally consists of two parts – the power source and the components needed for the conversion. Regarding the power source, the most popular lithium battery option is a 12-volt. 33-Ah Dakota Lithium battery. 
The other components needed for the conversion largely depend on the golf cart's make and model. Generally, these include a power box to activate and deactivate the power source, a charger, and wiring harnesses and connectors. The components needed will depend on the conversion process and the make and model of the golf cart.
Cost of conversion for lithium golf cart battery
The final cost of your conversion will depend on the type of golf cart, the battery's capacity, and the lithium battery's brand. In addition to labor costs associated with the conversion process. It makes sense to price out multiple sources to find the best price.
So, you want to get into the lithium-ion battery game. In that case, it's best to factor in an estimated cost of $1,000–$2. 500 to cover the components and labor costs to get an idea of what you can expect to pay for the conversion.
How to reduce the cost of conversion
When figuring out how much it will cost to switch a golf cart to a lithium battery, there are several things to think about. How much you'll spend depends on the type of battery you choose. Who you hire to do the work, and what parts you can reuse from the old battery. While it's easy to get carried away with the cost of the battery itself. There are also other expenses to consider. Converting a golf cart to a lithium battery can be quite an investment, but it doesn't have to be a financial burden. Here are some cost-saving tips to keep in mind when planning your project.
More sorted information for lithium golf cart battery:
Can I replace my golf cart batteries with lithium

Is a Lithium Battery Better for a Golf Cart

How long will a lithium battery last in a golf cart?

What is the best lithium-ion battery for a golf cart?
In summaries:
In conclusion, the cost of converting a golf cart to a lithium battery is not insignificant. And the long-term benefits are worth it. The cost of the conversion will depend on things like the type of golf cart. Battery size, brand, labor costs, and any other upgrades. For those considering a golf cart battery conversion, it is important to do research, shop around for deals. Carefully consider the factors that will impact the project's overall cost. Dakota Lithium offers a wide selection of lithium batteries for golf carts. Dakota Lithium batteries provide great value for money and reliability. Those who are thinking about conversion should get in touch with our team for more information. For further details, please contact sales@dakotalithium.com.