"The Draped Bust Dollar was the cornerstone of the monetary system devised by the Founding Fathers."

– Eric Sepanek, Scottsdale Bullion & Coin Founder
In this episode The Gold Spot Overtime, we're excited to bring you another exceptionally rare coin. This living, breathing piece of American history is our founder's absolute favorite rare coin.
Watch the video above to learn about the fascinating story behind this Draped Bust Dollar silver coin, what makes it valuable, and how you can make it part of your investment portfolio.
Introducing the 1795 Draped Bust Dollar
"The Draped Bust Dollar is a true artifact of US history." – SBC Founder Eric Sepanek
This stunning 1795 Draped Bust Dollar was minted less than two decades after the US declared independence when the country's monetary system was just taking shape. It's a true artifact of US history with an exceeding rarity only rivaled by its imminent beauty.
This special off-center strike represents a temporary design that was eventually replaced, underscoring the coin's rarity. A distinguished light blush rose toning adds to the dollar's aesthetics. This particular 1795 Draped Bust Dollar is certified by NGC with a Mint State 61.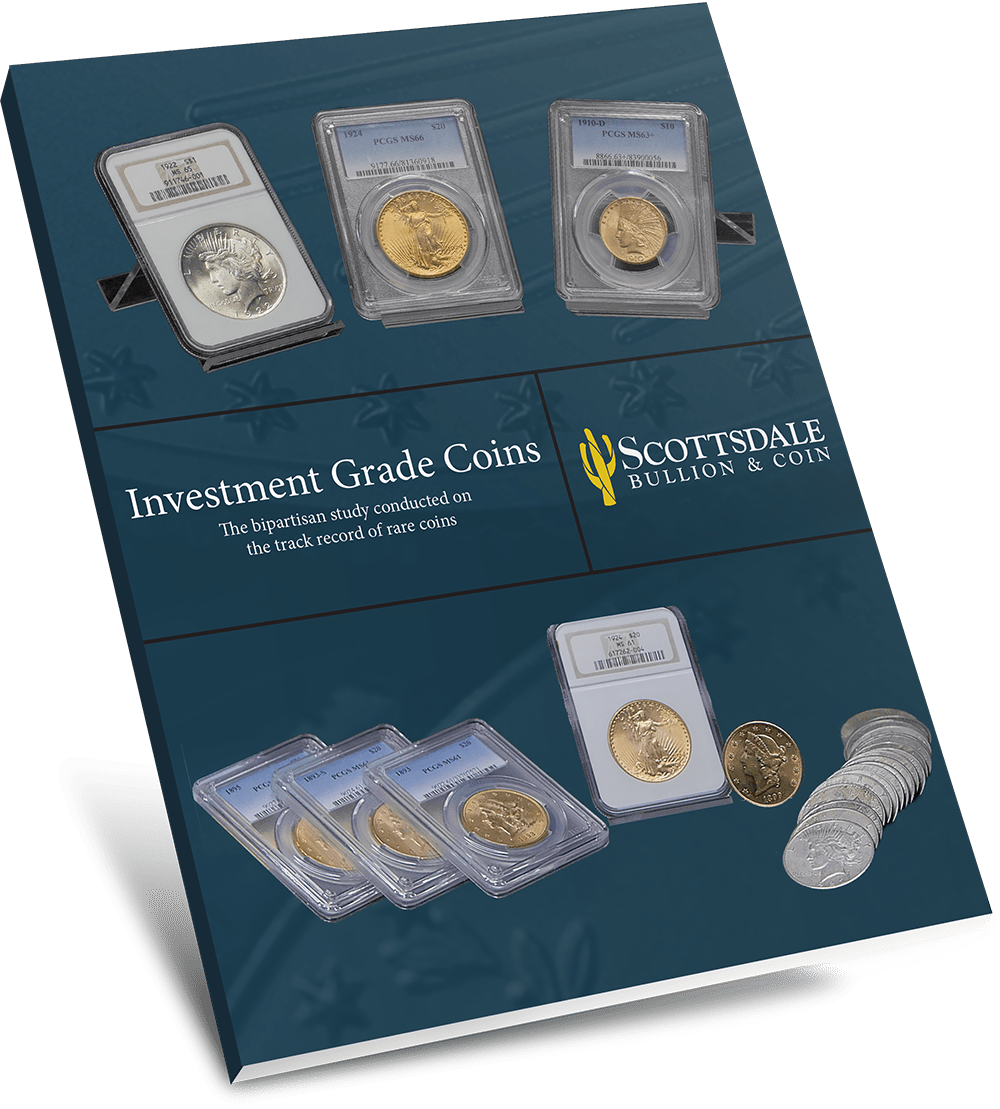 Get more out of your gold & silver investments.
Learn how…
History
The long tradition of silver coinage in the US was kicked off in 1794 with dollar and half-dollar denominations. The dollar was immediately considered a keystone of the country's burgeoning monetary system due to its popularity and prestige. The Draped Bust Dollar is just the second silver dollar issued by the U.S. Mint, replacing the Flowing Hair Dollar.
As the newly assigned Director of the Mint, Henry William de Saussure was eager to improve the appearance of silver coinage. The esteemed painter Gilbert Stuart was tapped to spearhead the design for what would become the Draped Bust Dollar. Initial sketches received approval from both George Washington and Thomas Jefferson, highlighting the coin's ties with early United States history.
Draped Bust Dollar Coin Design
Obverse Design: The obverse side features a regal depiction of a young woman with flowing hair believed to have been Philly-based socialite Ann Willing Bingham. The word LIBERTY appears at the top of the coin with 15 stars surrounding the bust for each of the states in the burgeoning union.
Reverse Design: The 1795 Draped Bust Dollar's reverse is adorned with a noble image of an eagle spreading its wings surrounded by THE UNITED STATES OF AMERICA.
Draped Bust Dollar Coin Versions
The Draped Bust Dollars minted in 1795 come in two varieties. This MS61 version is among the first class of dollars which feature a characteristic off-center strike of Liberty. While many historic coins feature mint-made errors, this design was intentional. Eventually, the strike was recast in favor of a more aesthetic and uniform positioning.
Coin Availability
Unfortunately, imprecise historical records make it difficult to determine how many strikes of each variety made it into circulation. However, estimates place the number at 100,000 for both versions of the Draped Bust Dollar.
It's an even greater mystery how many of these iconic silver dollars survive today, but certification numbers can give us a rough idea. The 1795 Draped Bust Dollar we're offering is the only one of its kind certified MS61 by NGC and only four are certified higher.
MS61 1795 Draped Bust Dollar Value
The highest-rated Draped Bust Dollar is valued at over $1 million, but you don't need to invest that much to invest in this valuable piece of history. We're offering this MS61 Draped Bust Dollar for an exclusive $82,600.
Invest in a Piece of American History
You have a unique opportunity to invest in a true artifact of US history that boasts exceptional beauty, rarity, and value. This historic silver coin is a great investment vehicle for preserving your wealth in the long run.
"If you are interested in owning an artifact of US history, this Draped Bust Dollar is a rare and valuable option."

– SBC Founder Eric Sepanek
Please contact one of our knowledgeable Precious Metals Advisors today by calling toll-free at 1 (888) 812-9892 or by using our live chat function. They'll be happy to answer all your questions.
Get more out of your gold & silver investments. Read our free, data-backed investment report now.